Beau Peep Farms
A great place
​to pick up chicks!

Geoff and Angela
Welcome to Beau Peep Farms Website!

We make it our business to source
​quality poultry for you. ​​​​​​​​​​​​​​​​​​​​​​​​​

* Eliminate the hassles of chick ordering
direct from hatcheries.
* Create a custom back yard flock.
* Choose from the largest selection of
breeds in Canada from one local source.
​ Call or email us Today!
DURING OUR REGULAR SEASON
​THE FARM IS OPEN 9AM - 5PM MONDAY, TUESDAY WEDNESDAY, FRIDAY, AND SATURDAY
(CLOSED ​​​ON THURSDAYS) .

SUNDAYS WE ARE OPEN FROM 11 AM - 3 PM WITH THE EXCEPTION OF NEW HATCH SUNDAY'S.

NEW HATCH SUNDAY'S WE ARE OPEN 9AM - 5PM​


NEW HATCHES​ (INVITATION / PRE-ORDER ONLY DAYS) WE STAY OPEN FROM 9AM - 5PM SATURDAY AND SUNDAY BUT ASK THAT YOU ONLY VISIT THE FARM IF YOU ALREADY HAVE PLACED A CHICK ORDER WITH US IN ADVANCE.

To ensure there will be someone here to greet you always call ahead as life sometimes pulls us away from the farm.​​​​
Our phone lines are open from 8 am - 5 pm weekdays &
9 am - 6pm weekends.
​

WATCH FOR EXCLUSIVE PRE-ORDER
"TICKET HOLDERS ONLY"

POSTED ON OUR FACEBOOK PAGE

For our largest hatches of the season we are opened on the Saturday & Sunday after the posted hatch dates exclusively

for those who have

confirmed orders/prepaid orders
i.e.

order
ticket #'s for pick up

We

RE-

OPEN TO THE PUBLIC

on the Monday following the posted hatch date for everyone else.
All unsold chicks are made available ​for sale ​at that time.


WE ARE A FAMILY RUN FARM WITH A YOUNG FAMILY. THERE ARE TIMES THAT WE MAY NEED TO CLOSE FOR SHORT PERIODS DURING OUR REGULAR HOURS OF OPERATION.

​​PLEASE CALL AHEAD TO MAKE SURE THERE IS SOMEONE TO GREET YOU WHEN YOU ARRIVE! Appointment booking through 604-745-FOWL(3695)
Answering machine is shared with "Turd Wranglers".
​

604-791-FOWL(3695)
Thank you for your understanding!​
Double click here to edit this text.
When placing your order please note that we sell on a first come first served basis. In order to secure your place in line a deposit of not less than 50% must be paid.

No exceptions

. Receiving a quote or answer to your enquiry is not the same as ordering. Only after we receive your deposit will you be given an order ticket number and be secured on our order list.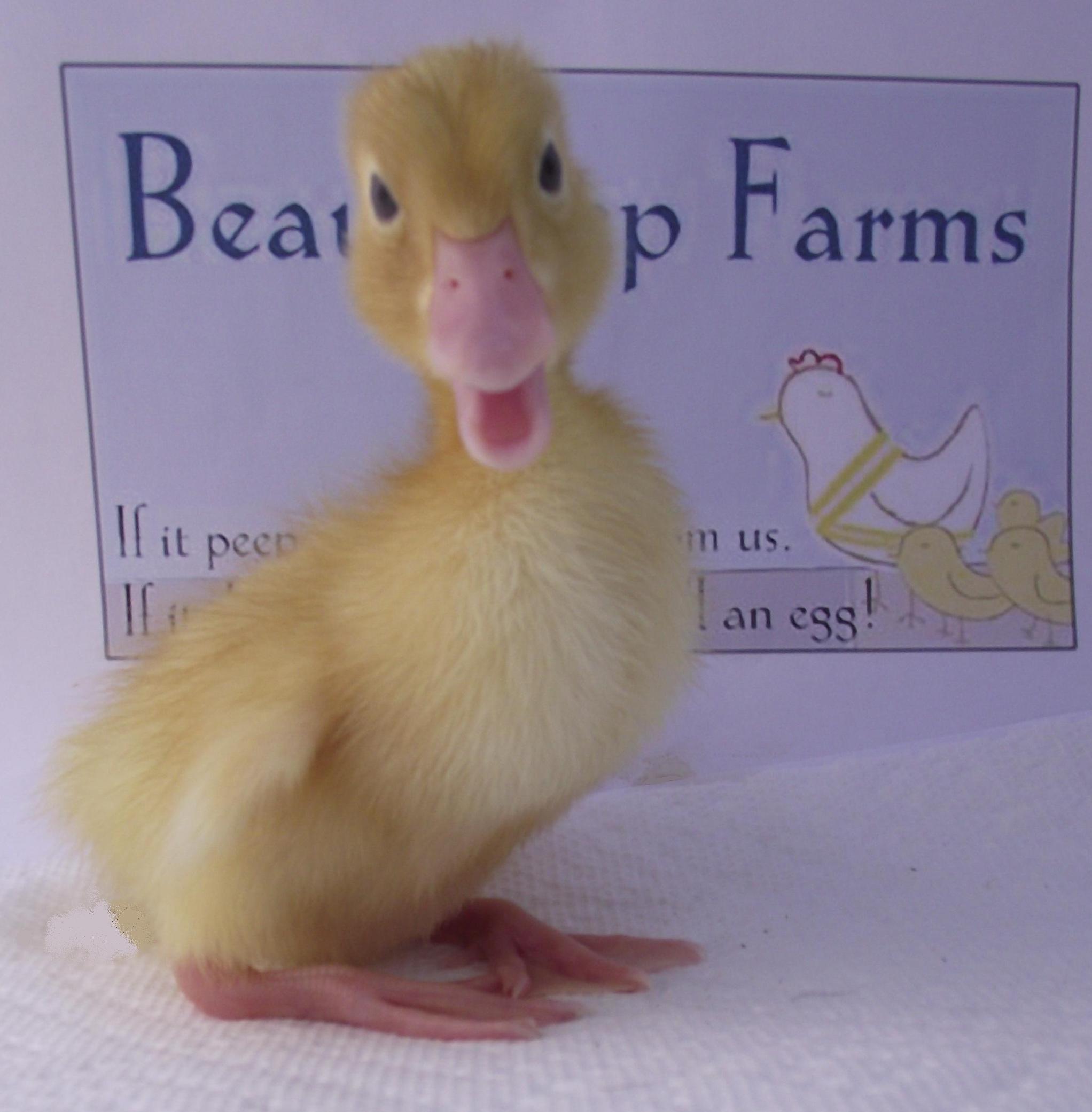 A great place to pick up chicks!
What are people saying about us?
Regarding COVID-19
​​



Beau Peep Farms is fully committed to you and your chicks health. In light of the ongoing concerns surrounding COVID-19 (Coronavirus) we have added additional cleaning procedures to our current rigorous cleaning standard, along with an ozonater.

Beau Peep Farms continues to disinfect all animal units, doors, handles and counters multiple times a day as part of our regular husbandry program. We want to assure you that the health and safety of our resident chicks, guests and employees is our number one priority. We ask that you practice the government recommendations including social distancing. Please do not visit Beau Peep Farms if you or any of your close contacts develop symptoms of COVID-19. If you are worried about being around other people please call us at 604-791-FOWL(3695) to book a pick up time, or wait in your vehicle until the guests ahead of you have left the store.

Beau Peep Farms has added numerous hand sanitizer stations in areas that house our poultry. We have hand sanitizer at the checkout counter near the entrance of our store. We have removed all of the toys and books from our "little farmers" corner. We are further educating ourselves and our staff to undertake best health practices and thoroughly clean high-touch areas throughout the store regularly. An ozone air cleaner has also been installed.

The public health risk will be continually assessed as new information becomes available. At this time, there is no evidence that the COVID-19 virus can be spread by poultry.

Updates on COVID-19 can be found at:

Public Health Agency of Canada
https://www.canada.ca/en/public-health/services/diseases/2019-novel-coronavirus-infection/prevention-risks.html

World Health Organization (WHO) International Travel & Health Updates
https://www.who.int/ith/en/

You can be assured that Beau Peep Farms will continue to focus on store cleanliness, bio-security, and the safety of our guests, employees and resident chicks. We are approaching this situation with great care and will continue working to ensure Beau Peep Farms store is a safe and welcoming environment for everyone. We will continue to monitor the evolving situation, taking guidance from the Public Health Agency of Canada, Centers for Disease Control and Prevention, Canadian Food Inspection Agency and local health authorities.

At Beau Peep Farms, we believe poultry makes life better and we are committed to serving you with all of your poultry and poultry supply needs in the safest manner possible during these challenging times.